A un paso de Berlin / Eine Station vor Berlin (2016) presents a personal look at an artwork from the Spanish Baroque imagery. The center of this reflection is the passage of "Camino del Calvario" by Gregorio Fernández, which is also one of the central works of the exhibition "El Siglo de Oro. La era de Velázquez" in the Gemäldegalerie of the National Museums of Berlin.
Behind this project lies the thesis that there are multiple perceptions of the same artwork according to its context and who looks at it. Whether visitors of a museum, believers and devoted members of a brotherhood  or restorers, each one perceives the sculptures through their own experience and knowledge. The different views on the same piece invite us to think over on art and our relationship with it. In addition, they give us the opportunity to get into the world of the Baroque, to look behind the scenes of the museums and to empathize with the audiences that contemplate the artwork.
The exhibition consists of some 70 photographs arranged in six series (Antes del desencanto del mundo / Before the disenchantment of the world, El viaje / The journey, La Procesión de Semana Santa / The Procession of Easter, Pliegues / Folds, Tríptico del Calvario / Triptych of Calvary, and Miradas / Gazes), four audiovisual works and one work-object. (You can see the exhibit in Installation views).
Los audiovisuales
Fragmentos de un traslado indiscreto (Obra-objeto, 2016)
Los desplazamientos de obras de arte se hacen con máxima discreción. El Estado español obliga incluso a acompañar las piezas en todo momento por escolta de alta seguridad. La confianza en el personal responsable debe ser total, tanto que algunas de las empresas que llevan a cabo estas labores tienen una política de fidelización. No es raro encontrar padres e hijos, o tíos y sobrinos formando parte del mismo equipo durante años.
Esta obra contiene los negativos de un carrete de una cámara desechable, que el artista cedió al equipo transportista encargado de llevar el Paso Camino del Calvario desde el Museo Nacional de Escultura en Valladolid a la Gemäldegalerie de los Museos Nacionales de Berlín.
La decisión de utilizar el método analógico no es casual. Se busca una prueba material del viaje. La imposibilidad de ver las imágenes (los positivos) tomadas durante el recorrido hace referencia al secretismo que esconden este tipo de traslados.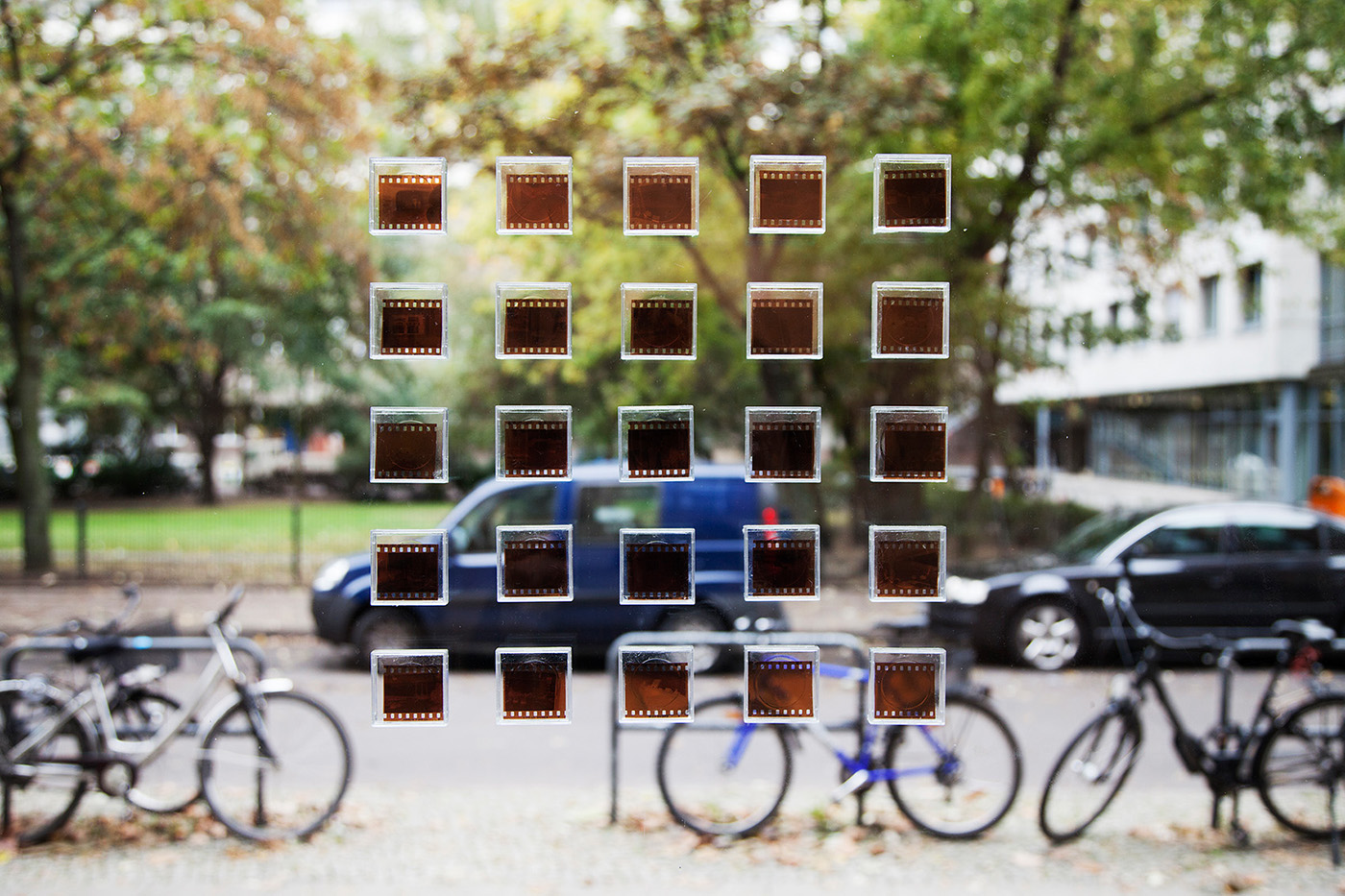 Comisariado: María López-Fanjul y Díez del Corral
Entidades organizadoras: Instituto Cervantes (Berlín)
Entidades colaboradoras: Gemäldegalerie Berlin, Staatliche Museen zu Berlin, Museo Nacional de Escultura de Valladolid, Pixel Grain, Europäischer Monat der Fotografie Berlin
Entidades Patrocinadoras: Junta de Castilla y León